INDOOR POLYURETHANE SPORT SURFACE
SEAMLESS & SPORTS COMFORT
Seamless polyurethane sports flooring is the best indoor cushioned sports surface in the world. It is completely seamless from wall to wall and completely level therefore making it easy to clean and maintain and the ideal playing surface. We supply only the highest quality products and materials for our seamless polyurethane sports flooring. All of our seamless polyurethane sports surfaces can have court markings applied to the surface for playing many different sports games.
Polyurethane sports flooring has a slight cushion effect to it so it will prevent against any ligament and joint injuries. It also has optimum grip for playing almost any sport.  It is definitely an ideal indoor sports flooring for futsal, badminton, basketball, volleyball and multi-purpose court.
SEAMLESS POLYURETHANE SPORTS FLOOR REFURBISHMENT & REPAIR
Although polyurethane indoor rubberized sports floors are very strong and long lasting, they will still need to be repaired and refurbished after a number of years. One of the great advantages to having a seamless PU sports floor is that you can resurface an old and damaged looking floor into a brand new sports hall (unlike a vinyl floor). Thus, your seamless PU sports floor can be resurfaced with a brand new colour or the same colour as well as repainting on any court markings you had or now require. It makes your sports floor looks brand new again giving it a second life.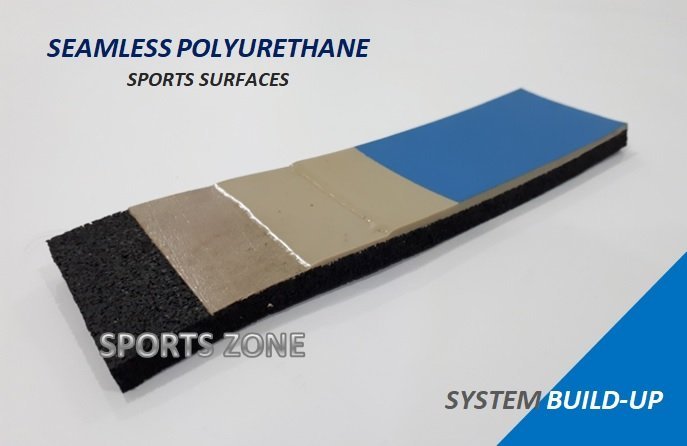 POLYURETHANE RUBBERIZED SPORTS FLOORING
POLYURETHANE RUBBERIZED SPORTS FLOORING is a seamless, point elastic, indoor sports flooring system. The particulary of this system lies in the application of the installed prefabricated rubber mat, pore sealer, wear coat and top coat. The system offers players maximum comfort and an excellent safety.

The high performance, seamless PU Sports surface system is non-porous, therefore hygienic and easy to clean. The systems provide the optimum slide and slip resistance required in today's most demanding sports.
POLYURETHANE SPORTS SURFACE GALLERY